Jaime Lannister
Played by:
Nikolaj Coster-Waldau
Bio
Jaime Lannister is the first born son and thus the rightful heir to the High Lord Tywin Lannister. Jaime is a member of the Kingsguard and is known as the Kingslayer for having slain King Aerys during Robert's Rebellion. He is twins with the queen, Cersei, whom he has been having an affair with; in addition, he is Joffrey's real father.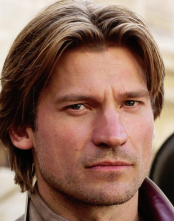 Pictures
Quotes
Jaime Lannister: Has anyone ever told you you're as boring as you are ugly?