Chuck Season 3 Episode 4: "Chuck Versus Operation Awesome" Photos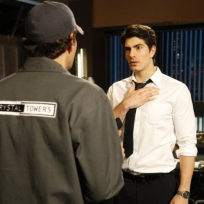 Added:
Displaying 1 photo
Around the Web
Want more Chuck?
Sign up for our daily newsletter and receive the latest tv news delivered to your inbox for free!
Lester: I wanted to thank you Chuck, you made me feel something I haven't felt in a long time...
Morgan: Another human's foot on your body?
Awesome: She knows everything about me.
Sarah: Except which member of the family is a spy.
Casey: That's an understandable mistake. One of them looks like a spy and the other one looks like Chuck.