Watch Gilmore Girls Online Free
Try Amazon Prime for FREE and watch this title!
Gilmore Girls Season 3 Episode 17: "A Tale of Poes and Fire" Photos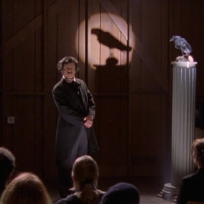 Added:
Displaying 1 photo
Around the Web
Want more Gilmore Girls?
Sign up for our daily newsletter and receive the latest tv news delivered to your inbox for free!
Luke Danes: Don't do that.
Lorelai Gilmore: Don't do what?'
Luke Danes: Don't pull the sheet back after I pull it, i need more room for this side.... You pulled it back again.
Lorelai Gilmore: Okay, I need it for my side.
Luke Danes: I need it to tuck it in.
Lorelai Gilmore: Same here.
Luke Danes: I always tuck it in on this side.
Lorelai Gilmore: Let's tuck it in on both sides.
Luke Danes: You tuck a bed in on both sides?
Lorelai Gilmore: Yes, then I slip down into it like I'm in a straightjacket or something.
Luke Danes: You must feel right at home there.
Paris Geller: I did tell my mother about having sex with Jamie and her only reaction was to talk about how my father hasn't pleased her in 15 years.
Rory Gilmore: Yikes!
Paris Geller: Like I couldn't tell.