TV Fanatic Works Better with Prime Instant Video
40,000 other titles are available to watch now.
Grey's Anatomy Season 1 Episode 6: "If Tomorrow Never Comes" Photos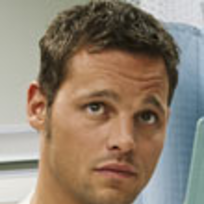 Added:
Displaying 1 photo
Around the Web
Want more Grey's Anatomy?
Sign up for our daily newsletter and receive the latest tv news delivered to your inbox for free!
GEORGE: [bringing Meredith coffee] "Ahh! Hot!"
IZZIE: "Wouldn't it be easier to just ask her out?"
[narrating] "A couple of hundred years ago, Benjamin Franklin shared with the world the secret of his success. 'Never leave that 'til tomorrow,' he said, 'Which you could do today.' This is the man who discovered electricity. You'd think more of us would listen to what he had to say. I don't know why we put things off, but if I had to guess, I'd say it had a lot to do with fear. Fear of failure. Fear of pain. Fear of rejection. Sometimes the fear is just of making a decision, because what if you're wrong. What if you make a mistake you can't undo. Whatever it is we're afraid of, one thing holds true. That by the time the pain of not doing the thing gets worse than the fear of doing it. It can feel like we're carrying around a giant tumor. And you thought I was speaking metaphorically."

MEREDITH