TV Fanatic Works Better with Prime Instant Video
Try it Now for Free and Instantly Watch Louie.
Louie Season 3 Episode 5: "Daddy's Girflriend (Part 2)" Photos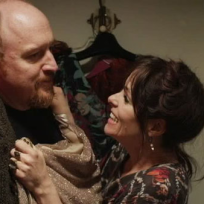 Added:
Displaying 1 photo
Around the Web
Want more Louie?
Sign up for our daily newsletter and receive the latest tv news delivered to your inbox for free!
I went on a date and I get nervous when I date. I get very nervous. I went on this date and we went out to dinner and all these things then I took her home and she went inside, and then I farted for the rest of my life.

Louie
Young, gorgeous women must have the hardest time. A lot of people think they have advantages. Like 'oh you're a pretty girl, it's easy, people buy you drinks' oh wow, boy, what is that - a $16 savings every week? Free drinks! It must be so much pressure to be like a really cute young girl. First of all, you're smaller than most people, you're an adult, and you're walking around and there are just MASSIVE men like 3 times your size and every single *GRUNTS LOUDLY LIKE A CAVEMAN* - that's a lot to take on. Someone else's cum fantasy. Like he just looks at you and you just feel buckets of cum hit you in the face.

Louie