Luck Season 1 Episode 6: "106" Photos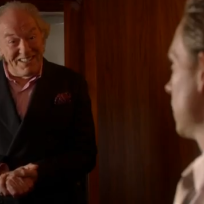 Added:
Displaying 1 photo
Around the Web
Want more Luck?
Sign up for our daily newsletter and receive the latest tv news delivered to your inbox for free!
Nathan: If I'm gonna feel sick all the time, I don't if I'm gonna want to do this.
Ace: Do you feel sick?
Nathan: Yeah.
Ace: 'Cause you're an honest man, so far.
Claire: I've seen people profoundly changed simply by being in proximity to horses. Their size, their virtue, their complicatedness, their renowned patience and something. Don't be afraid of that, Chester.
Ace: Of what?
Claire: Everything that can be.