TV Fanatic Works Better with Prime Instant Video
40,000 other titles are available to watch now.
Luck Season 1 Episode 7: "107" Photos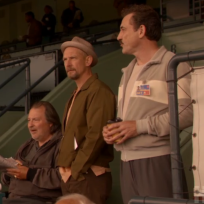 Added:
Displaying 1 photo
Around the Web
Want more Luck?
Sign up for our daily newsletter and receive the latest tv news delivered to your inbox for free!
Mike: A map of Ireland on your mug and a name hanging off you like Israel.
Nathan: My mother's maiden name was O'Hanlon.
Mike: One mystery put to rest while another only deepens.
Nathan: What mystery deepens?
Mike: The strength of your grip on the tiller, young Israel, the depth of your composure while navigating these difficult waters.
Nathan: I'm taking my melatonin. I think much more than you realize Mr. Bernstein's purposes coincide with yours. Lowers the double agent stress.
Mike: I've known Chester Bernstein son, since before you bleeding journey from your irish mother's womb. Without wanting to give offense, your being privy to his intentions is not a likely premise.
Nathan: Answers a question with a question.
Mike: 100% solidarity with Ace. Syntax is how I know. Syntax!