Scandal Season 2 Episode 3: "Hunting Season" Photos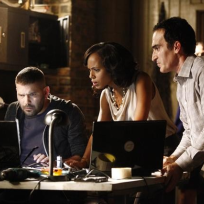 Added:
Displaying 1 photo
Around the Web
Want more Scandal?
Sign up for our daily newsletter and receive the latest tv news delivered to your inbox for free!
Edison: I took an oath to do the exact opposite of what you're asking me to do.
Olivia: You always did put your career above all.
Edison: Takes one to know one.
Quinn: My story didn't make any sense at first.
Abby: Still doesn't.
Quinn: Everyone thought I was crazy.
Abby: Still do.