Scandal Episode Guide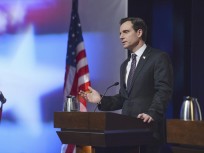 Fitz believes he's well prepared for the Presidential debate but gets thrown a curve. Olivia gets news that forces her to make a difficult decision and someone's dirty little secret could turn deadly on Scandal.
Fitz faces his jealousy and Mellie faces her past on an all new episode of Scandal.
Sally prepares to make a bombshell announcement that will rock the White House on Scandal.
Cyrus helps Sally manage her crisis while Olivia learns more about her mother on Scandal.
Cyrus realizes he may have pushed too far and loyalties are tested as OPA gets closer to the truth on Scandal.
Olivia and her team handle another crisis in Josie's campaign while Cyrus miscalculates in his plan to reign Sally in on Scandal.
On this episode of Scandal, Mellie is still attempting to recover from the public backlash of Fitz' affair, so she sits down for an interview.
Olivia and her team back Josie while Cyrus and Mellie try to take her down on Scandal.
The team helps Democratic Congresswoman Josie Marcus (Lisa Kudrow) on Scandal. Olivia and Mellie have a surprising run-in during the White House Correspondents' Dinner.
Pope & Associates take on the case of a philandering Senator who likes to take pictures of himself which should not be shared with the public on Scandal.