TV Fanatic Works Better with Prime Instant Video
Scandal Episode Guide
Olivia seeks out Tom for information on Scandal Season 4 Episode 7. Elsewhere during the hour, Huck continues to play with fire. Will he ge burned?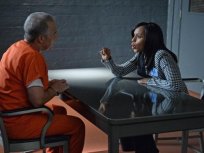 On Scandal Season 4 Episode 6, Olivia talks to a convicted killer who says he's been wrong accused. Elsewhere, Elizabeth inches closer to corrupting the White House, while Fitz makes a shocking move
On Scandal Season 4 Episode 5, Olivia and the company continue to look into Catherine's case. However, Olivia grows distracted due to Jake not returning her calls.
On Scandal Season 4 Episode 4, Fitz asks Olivia to handle a situation that could destroy the Grant family's reputation. Also, Rowan makes a call to an old friend.
Sonya Walger guest stars on this episode of Scandal. Elsewhere, Cyrus has an awkward run-in during a business breakfast, while Jake uses his connections to get some answers.
Mellie's grief begins to draw attention toward the White House on Scandal and Cyrus recruits an American hero couple to Fitz's State of the Union address in order to make an impact on the viewing public.
The Scandal season 4 premiere picks up two months after Olivia left with Jake to stand in the sun. What's happened in her absence? Find out now!
Charlie makes a surprising move, Olivia tries to understand her mother's motives, and nothing is off the table as election day looms near on Scandal.
On Scandal this week, a bomb threat grounds Fitz with only 6 days until the election. Olivia makes discoveries about her parents.
Abby has to step in and take over Olivia's duties at the White House while Olivia and Huck focus on B613 on Scandal.