TV Fanatic Works Better with Prime Instant Video
40,000 other titles are available to watch now.
Sex and the City Season 5 Episode 4: "Cover Girl" Photos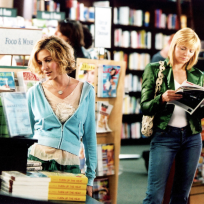 Added:
Displaying 1 photo
Around the Web
Want more Sex and the City?
Sign up for our daily newsletter and receive the latest tv news delivered to your inbox for free!
Carrie: Samantha, where are you going?
Samantha: I'm gonna splash some water on my face, and then I'm going home. And I will not be judged by you or society. I will wear whatever, and blow whomever I want, as long as I can breathe and kneel.
Charlotte : What kind of diet book are you looking for?
Miranda : I don't know. Something with a title like How to Lose That Baby Fat by Sitting On Your Ass.
Courtney [showing Carrie her book cover] : Let me talk you through it. Blurred background, aah, fast paced city. And you, naked with nothing but your ideas.
Carrie : I get it. But, see, no matter how fast paced the city, I always manage to get my clothes on before I leave the apartment.