My Favorite Things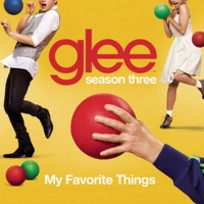 As Heard On:
My Favorite Things Lyrics
Raindrops on roses and whiskers on kittens
Bright copper kettles and warm woolen mittens
Brown paper packages tied up with strings
These are a few of my favorite things

Cream colored ponies and crisp apple streudels
Doorbells and sleigh bells and schnitzel with noodles
Wild geese that fly with the moon on their wings
These are a few of my favorite things

Girls in white dresses with blue satin sashes
Snowflakes that stay on my nose and eyelashes
Silver white winters that melt into springs
These are a few of my favorite things

When the dog bites
When the bee stings
When I'm feeling sad
I simply remember my favorite things
And then I don't feel so bad
****** Listen on
iTunes
******
[to Kurt] You know, these Mounds bars are delicious, but you have to eat them. If you just hold them in your hand hoping that you might get to eat them one day, they're going to melt and you'll look like somebody just pooped in your hand. Don't let waiting for things to maybe work out with Blaine turn you into the guy who looks like somebody just pooped in their hand.

Brittany
Blaine: Where's the bed?
Brittany: I removed it because when I imagined you two having sex I imagined a U-haul mounting a moped.