Something's Coming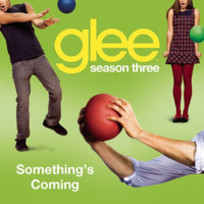 As Heard On:
Something's Coming Lyrics
Could be!
Who knows?
There's something due any day;
I will know right away,
Soon as it shows.
It may come cannonballing down through the sky,
Gleam in its eye,
Bright as a rose!

Who knows?
It's only just out of reach,
Down the block, on a beach,
Under a tree.
I got a feeling there's a miracle due,
Gonna come true,
Coming to me!

Could it be? Yes, it could.
Something's coming, something good,
If I can wait!
****** Listen on
iTunes
******
[to Kurt] You know, these Mounds bars are delicious, but you have to eat them. If you just hold them in your hand hoping that you might get to eat them one day, they're going to melt and you'll look like somebody just pooped in your hand. Don't let waiting for things to maybe work out with Blaine turn you into the guy who looks like somebody just pooped in their hand.

Brittany
Blaine: Where's the bed?
Brittany: I removed it because when I imagined you two having sex I imagined a U-haul mounting a moped.