TV Fanatic Works Better with Prime Instant Video
American Dad Episode Guide
On American Dad Season 12 Episode 5, Hayley worries that Franicine's sister Gwen has ulterior motives when she visits.
Cuts within the CIA have Stan taking on a campus security position and Roger opening a bed and breakfast on American Dad Season 12 Episode 4.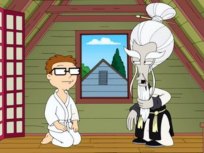 Tired of being bullied, Steve and Snot enter a karate contest on American Dad Season 12 Episode 3.
On American Dad season 12 episode 2, Stan decides he must prove that humans are better than robots when a drone takes over one of his jobs.
On American Dad Season 11 Episode 1, Hayley decides to become a blonde. Her goal is to receive more attention via this change. (The show, meanwhile, now airs on TBS.)
A female alien is found in the woods by Roger and Francine. However, the alien's many quirks start to be more than Roger can handle. on American Dad.
Roger disguises himself as Greg and Terry's newly adopted Russian son on American Dad.
A heart attack as Roger selling his bar and moving in with Greg and Terry on the season premiere of American Dad.
The Season 9 finale of American Dad has Hayley heartbroken over Jeff's abduction, but a millionaire may help her deal with the tragedy.
During her internship, Hayley works with a controversial reporter with a secret on American Dad.