Watch Being Human Online
Watch Being Human Season 1 Episode 2
"There Goes the Neighborhood - Part 2"
Original Air Date:
This is the second episode of Being Human, as it continues to introduce its three main characters and their unusual lives to the audience.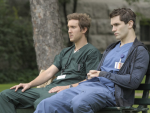 Watch Being Human Season 1 Episode 1
"There Goes The Neighborhood - Part 1"
Original Air Date:
We're introduced to Being Human's three leads this week. One is a vampire, another a ghost and the third is a werewolf.
Want more Being Human?
Sign up for our daily newsletter and receive the latest tv news delivered to your inbox for free!