Dancing With the Stars Season 4 Episode
Week 10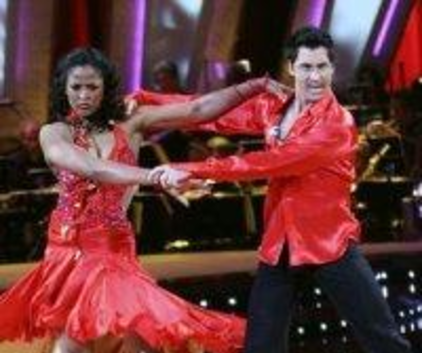 Recap
Laila Ali and Maksim Chmerkovskiy (Pasa Doble) - This was one of the few dances that gave them trouble earlier in the season, so it was interesting to see them get another shot. It was an improvement, and Laila Ali had much more difficult choreography to do. The theatrics of the performance were top notch. Len thought it was fantastic. Bruno called it a tidal wave of passion and drama. Carrie Ann agreed with them and loved it as well. Score: 29 (10, 9, 10)

Apolo Anton Ohno and Julianne Hough (Rumba) - The rumba was an interesting choice. Very intricate choreography, performed very well. The dance lacked some of the flash we have seen in other numbers, but the more subdued steps were beautiful. Apolo continues to impress week after week, and we're now firmly convinced that Julianne Hough is the Pro of the year. This has been a fantastic debut on the show for her. Bruno compared it to American Gigolo somehow, and that was a good thing. Carrie Ann said it was over-performed. Len agreed with Carrie Ann, saying that the performance lacked romance. Score: 28 (9, 9, 10)
Joey Fatone and Kym Johnson (Cha Cha) - A very fun performance. Unfortunately, it was a little too fun, and not really enough cha cha. Carrie Ann Inaba thought it lacked content. Len called it too theatrical, with too many tricks. Bruno said it was just not quite there. Score: 26 (9, 8, 9) They had a good point about the content of the dance.
Laila Ali and Maksim Chmerkovskiy (Freestyle) - This is just not Laila's strong suit. She was good, but the time for good was three or four weeks ago. With Joey and Apolo waiting in the wings they needed something special, and this performance just didn't measure up. The judges all agreed that this just wasn't the right dance for her. All of them said that they would have preferred something more sophisticated and sensual. Score: (9, 8, 9)
Apolo Anton Ohno and Julianne Hough (Freestyle) - Julianne once again outdid herself with some great choreography. Apolo Anton Ohno held up his end by managing some very intricate steps and pulling off some pretty impressive tricks. Bringing the break dancing into it was a gamble, to be sure, but it paid off in the end. Len said it was everything he wants to see in a freestyle. Bruno added that the Apolo Syndrome was taking over. Carrie Ann was so excited she didn't even comment on it. Score: 30 (10, 10, 10).
Joey Fatone and Kym Johnson (Freestyle) - From the moment he ripped off his black suit to reveal his disco duds, everything was amazing. The huge leap from the stage was great. His first spin of Kym Johnson was incredible, and they carried that right on through the performance with trick after trick. The way he tossed her around was very impressive, and the dancing between the tricks was pretty good too. The performance of the night. Bruno called Joey Mr. Entertainment. Carrie Ann liked that they incorporated so many of the things they have learned in the competition. Len compared Joey to Harry Potter on the Nimbus 2000. Proving that he has been sitting next to Bruno for too long now. Score: 30 (10, 10, 10)
Show:

Season:

Episode Number:
Want more Dancing With the Stars?
Sign up for our daily newsletter and receive the latest tv news delivered to your inbox for free!