Episode Guide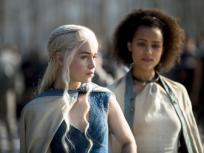 The battle begins anew! This is the Season 4 premiere of Game of Thrones.
A a newly discovered doppelganger plays a key role on this episode of The Vampire Diaries, which finds Stefan in trouble.
Zoe is thrilled to get her mother's undivided attention, even if it means having to become her client. Brick gets Lavon's help to throw Lemon a welcome home party on Hart of Dixie.
Bailey asks Richard to scrub in on the case of a lifetime on his birthday, an upset Callie shocks Derek and Meredith hires a new research assistant on Grey's Anatomy.
We meet a new character on this episode of The Vampire Diaries. He is a gay college student named Luke.
On the Pretty Little Liars Season 4 finale Alison comes out of hiding and confides in her friends, telling them what happened the night she disappeared.
A bomb detonates in the dressing room at a military charity concert and the NCIS team must determine its target.
Glee celebrates its 100th episode this week. Prepare to say hello to many familiar faces.
When Castle and Beckett investigate the murder of a Japanese ballet dancer, they realize that she may have be killed by a ninja, an now they're after Castle.
Victoria takes drastic action to handle someone from her past while Emily finds she must rely on a person she betrayed when her blackouts become more violent on Revenge.