Dancing With the Stars Season 9 Episode 8
908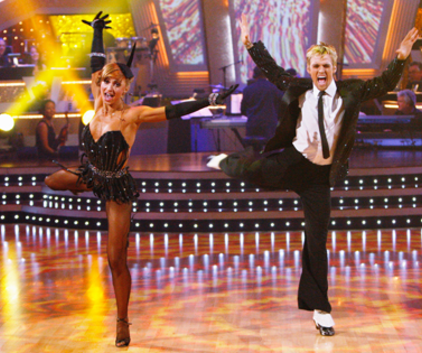 Recap
Five couples, two dances for each pairing. First up, a ballroom number. Second, some sort of Latin dance...
Mya & Dmitry: What a great quickstep. Even Len had to say: "Tonight, there is a disappointment for me... because I couldn't find anything to criticize." Almost a perfect score.
Score: 29

SECOND DANCE: Dmitry wore a mustache! It was great. Len said Mya had produced two dances "of the highest standard." What does that mean? This says it all:
Score: 30
Aaron Carter & Karina Smirnoff: Solid fox-trot, despite Karina's recent bout with the flu. Len was proud, saying: "Watching you is like watching my son in a toy shop." Awwww!
Score: 23
SECOND DANCE: Gotta give props for the song choice: the Spin Doctors' "Two Princes." We liked this Samba. "All that energy finally has made good!" said Bruno.
Score: 27
Joanna Krupa & Derek Hough: We loved the choreography, but the execution of the quickstep was less than ideal. Bruno said it well: Len was even harsher, eliciting boos from the audience.
Score: 23
SECOND DANCE: Interesting, futuristic paso doble here. We got a Matrix vibe. Judges loved it, but Carrie Ann only gave it a 9.
Score: 29
Kelly Osbourne & Louis van Amstel: Kelly still lacks confidence. She seems surprised when she does thing swell. "You have a secret weapon," said Carrie Ann. "The moment you have a breakthrough, the audience goes crazy for you."
Score: 25
SECOND DANCE: This was a 1960s jive, she looked a bit peaked, as Kelly donned an unnecessary fluorescent green wig. Faux pas! Still, said Len: "You have been an absolute revelation to me. You've come in week after week, stronger and stronger."
Score: 26
Donny Osmond & Kym Johnson: Donny performed the heck out of that Viennese waltz. It might still be the favorite, even though Len found it a bit "arty-farty." Carrie Ann, though, found the performance "mesmerizing."
Score: 26
SECOND DANCE: This was a 1980s paso doble. "I thought it was hysterical," though odd, Carrie Ann noted. Len referred to it as "crazy, bizarre and scary." Those aren't good adjectives.
Score: 24
Show:

Season:

Episode Number:

8
Want more Dancing With the Stars?
Sign up for our daily newsletter and receive the latest tv news delivered to your inbox for free!