Teen Mom 2 Episode Guide
Chelsea sits down with an attorney, Leah starts taking medication for her anxiety, and Kailyn and Javi visit Joe and Vee on Teen Mom 2.
It's Isaac's birthday and Kailyn invites Jo and Vee to the party while Chelsea moves into her new home on Teen Mom 2.
Jenelle learns the sex of her baby while Kailyn struggles to keep her marriage together and Chelsea gets unexpected news on Teen Mom 2.
Leah figures out what has caused Ali's muscular dystrophy, Javi goes back to work and Jo gets a new apartment on Teen Mom 2.
Nathan gets arrested and Kailyn's baby is born on Teen Mom 2.
Javi takes Issac over to Jo's. Jenelle and Nathan get exciting news. Ali tests out her new wheelchair on Teen Mom 2.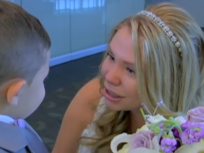 Kailyn and Javi celebrate their wedding while Chelsea gets a job on Teen Mom 2.
When she realizes that her mother won't be at her wedding, Kailyn has a breakdown on Teen Mom 2.
On Teen Mom 2 this week, Adam upsets Chelsea with a visitation request and Jenelle undergoes surgery.
Jenelle talks about a plea bargain with her attorney while Kailyn has a meltdown on Teen Mom 2.