The Bridge Episode Guide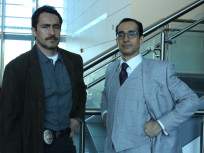 Ray and Charlotte talk about the future while Marco makes a new ally on The Bridge.
Eva and Linder reunite while while Sonya and Marco search for Eleanor on The Bridge.
Eleanor gets help from a young boy and an unusual killing attracts attention on The Bridge.
On The Bridge season 2 premiere, Sonya runs into a man connected to her past while Marco worries about his safety.
Sonya and Marco must find a missing girl on the season finale of The Bridge.
Charlotte ends up in an unexpected alliance while Sonya works to rebuild her strained relationship with Marco on The Bridge.
There's a final showdown as the killer's motives and methods are revealed on The Bridge.
Charlotte decides she must protect her ranch at all costs while Marco and Sonya get closer to catching the killer on The Bridge.
Charlotte reacts to the latest threat while Marco must race to save his family on The Bridge.
Charlotte's ranch ends up on the line while Sonya tracks down a lead that Marco believes is a dead end on The Bridge.