Watch The Red Road Online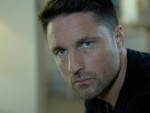 Watch The Red Road Season 1 Episode 1
"Arise My Love, Shake Off This Dream"
Original Air Date:
The premiere of The Red Road introduces us to a local Indian tribe and to a local sheriff.
Kate: Why do you watch this?
Jensen: Because I like it.
Kate: Even though it broke my back?
Jensen: Especially because it broke my back.
Rachel? Baby? If you ever go near her again, I'll kill you.

Jensen