TV Fanatic Works Better with Prime Instant Video
40,000 other titles are available to watch now.
Scandal Season 3 Episode 16: "The Fluffer" Videos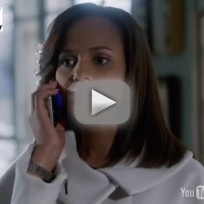 Added:
Displaying 1 video
Around the Web
Want more Scandal?
Sign up for our daily newsletter and receive the latest tv news delivered to your inbox for free!
I lie in bed every night and I play our relationship over and over again in my head like a movie. We meet. We fall in love. We can't stop ourselves. We're meant to be. I give up everything inside me and then it stops. The movie just stops. I don't know how it ends. It's just me waiting for a house in Vermont that I can't live in and a man who makes me promises he can't keep.

Olivia
What else do you need? What service can I render for you today? Am I here to stroke your ego? Am I your cheerleader? Am I here to wipe your tears? Am I your nanny? Am I here to fight the bullies? Am I your bodyguard today? Maybe I'm here to make you feel good? Maybe I'm your dealer. Or maybe I'm here to make you feel hot and manly and ready so you're not jealous of your wife's boyfriend. Is that it? Am I your fluffer today Fitz? What service am I billing you for today?

Olivia