TV Fanatic Works Better with Prime Instant Video
Try it Now for Free and Instantly Watch Community.
Joel McHale Videos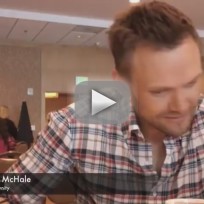 Added:
Displaying 1 video
Around the Web
Want more Community?
Sign up for our daily newsletter and receive the latest tv news delivered to your inbox for free!
Sensible night, appropriate night.
Snow on ground, left and right.
Round yon purchase of decorative things.
Tolerant rewrite of carols to sing.
Function with relative ease,
Function with relative ease.

Shirley [sung to the tune of "Silent Night"]
Annie: The midterm dance will need a visual theme. Like, 'Let's blow off steam,' and it's trains!
Chang: I have an idea!
Annie: Chang, your last idea was to murder.