Isaiah Washington, Other Celebrities "Ask the Planet" All Sorts of Things
Steve Marsi at . Comments
In a two-story terrarium, atop the Hard Rock Cafe in New York City, lies a giant purple brain. The world's largest.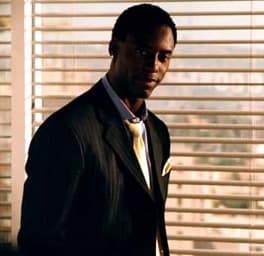 It is the place where the "planet's questions" converge, be they live from Times Square or online through Yahoo! Answers. The site mentioned above, which Yahoo! launched in 2005, has already reached 15 million answers.
The "Ask the Planet" campaign debuted with the brain's unveiling and will end with a question from Bono, the event's MC.
Among those who will pose questions to the mystical oracle are Marilyn vos Savant, Donald Trump, Dane Cook, Arianna Huffington, Al Gore, Stephen Hawking and our own Isaiah Washington. Each will present personal questions in his or her own field.
When an inquiry is posed, a team of 22 brainiacs, chosen through an online submission process, will work from the giant brain's lobes. Taking shifts for the next three days, the brainiacs, along with other Yahoo! Answers users around the world, will answer the planet's pressing questions.
Yahoo users will also be able to answer celebrities' questions and turn their answers into prizes. Furthermore, Yahoo will make donations over the course of the campaign, including $50,000 to the American Museum of Natural History in New York.
"Yahoo! Answers is helping consumers find, use, share, and expand their knowledge and life experience with others online and creating a new way to search for information on the Web," said Cammie Dunaway, the company's head of marketing, who looks forward to kicking off this fun event.
How can they go wrong. Dr. Burke knows all!
Steve Marsi is the Managing Editor of TV Fanatic. Follow him on Google+ or email him here.