Washington Travels to Africa For Trade Mission, Documentary to Air on ABC
Steve Marsi at . Comments
We chronicled the charitable endeavors of
Isaiah Washington
recently as the
Grey's Anatomy
star donated his time for an auction held by the
Jackie Robinson Foundation
(lunch with the actor went for $4,550).
Now, he has turned his attention to a global cause, traveling to the African nation of Sierra Leone as part of a Corporate Council on Africa (CCA) mission to explore trade and investment opportunities with the U.S.
"It is our first trade mission to Sierra Leone," Stephen Hayes, President of the CCA, said. "We applaud Isaiah Washington for promoting trade and investment relations between Sierra Leone and the United States."
"I don't want to stop until a McDonald's is in Freetown (the capital of Sierra Leone). The one thing I know is that wherever a McDonald's is, no one is having a war," said a high-spirited Washington, whose portrayal of the incomparable Dr. Preston Burke has won over millions of Grey's fans.
CCA and its partners in Sierra Leone (see map, below) held five days of high-level meetings, including sessions with cabinet ministers. The goal is to investigate all business opportunities in transportation and telecommunications, mineral mining, energy, power and in the health sector.
"A star like Isaiah Washington can help to promote a relatively unknown business destination like Sierra Leone. Business creates employment opportunities and leads to sustainable economic development," Hayes said.
Washington's maternal lineage is to the Mendé people of Sierra Leone, a 2005 genetic test proved. The 42-year old actor remained in Africa after the trade mission to film a documentary that will be aired on ABC upon his return. The documentary will follow Washington on his personal and political journeys into the past, present and future of the people in his ancestral, West African homeland.
"I'm obligated in my own mind and through my own conviction to go back to a country of people w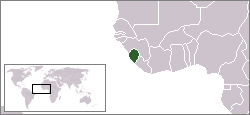 ho have no idea who I am and help them, because I can," Washington said. 
CCA is a non-partisan organization comprised of nearly 200 U.S. companies dedicated to strengthening commercial relationships between the United States and Africa.
Steve Marsi is the Managing Editor of TV Fanatic. Follow him on Google+ or email him here.