In a world full of Mariahs and Beyonces, Britneys and Jessicas, and even nasty, sickly Paris-ites, Kelly Clarkson is the anti-diva.
For that reason, the inaugural American Idol winner is on the Entertainment Weekly "Must List" -- people in the entertainment world we must know more about -- she's nowhere to be found in the tabloids, due in large part to the fact that she's always working. With concerts, award shows, and even a Navy flight, she's powered her way to the top of pop.
This week, she embarks on a 24-city tour, and Kelly was kind enough to share some thoughts on that and other pressing issues with EW...

On her least favorite part of fame:
"Photo shoots are the least favorite part of my job. Photographers ask me if I want to look at pictures of myself and I'm like, 'Dude, why would I want to look at these photos? I'm not that vain.'"

On some of her new tunes:
"I have 40 songs for my next record. I don't stop writing. There is one called 'Yeah.' It's very tour friendly and has an easy hook. It's kind of Prince-ish and Sly & the Family Stone."
On her favorite parts of Kelly Clarkson shows:
"The Bridge of 'Addicted.' It sounds like a scary part of a horror movie, when you know something bad is going to happen. The first part of it is real intense and then I just full-on belt it out. I live for that!"
On her own American idols:
"Oh my God, you know no idea. I'm in love with Patti Griffith. I got to meet her and acted like an idiot. I was like, 'You are so great, but I'm not going to stay very long because otherwise I'm going to say something stupid."
Kelly will be back in the studio starting in August, after her tour winds down, to record her new album, tentatively slated for a February 2007 release.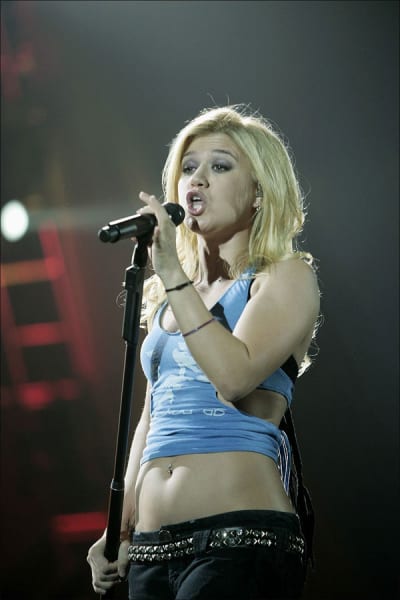 Matt Richenthal is the Editor in Chief of TV Fanatic. Follow him on Twitter and on Google+.