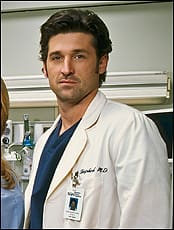 Many
Grey's Anatomy
fans would like to believe that the handsome, talented Dr. Derek "McDreamy" Shepherd were a real person. Well, for a few minutes recently, Derek and the actor who portrays him,
Patrick Dempsey
, were one and the same.
According to the Boston Herald, Patrick's four-year-old daughter, Tallulah, ended up in the hospital after a nasty fall. The TV doc wasted no time in instructing the staff how to proceed.
"My daughter had fallen and hurt her chin and I was watching the doctor's technique," Dempsey said. "I said to the doctor, 'You're not going to put stitches on her. Use the liquid Band-Aid on her instead. That's what I want you to use now, please.' I suddenly became Derek Shepherd in the emergency room. I was very authoritive. People listened. It worked out for the best."
As for the real-life doctor's reaction to the suggested course of treatment?
"He said, 'Yes, that's probably better,'" Dempsey said.
The Maine native added that the doctor tending to his daughter had no clue who he was. Guess we won't be hitting him up for our next expert interview.
Steve Marsi is the Managing Editor of TV Fanatic. Follow him on Google+ or email him here.