Bo Bice, runner-up on the fourth season of American Idol in 2005, is one lucky guy -- and possibly the nation's best-known tribute band singer.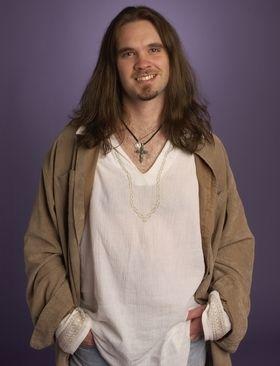 He closed the ninth Snapple Sunset Music Festival on Monday in Newport, R.I., with a set including a few non-descript originals and a dearth of classic rock covers, according to the
Newport Daily News
.
The sound may not be much different than what you'd hear from the average bar band, except for better equipment and more fans. A lot more.
Even his hit single, "The Real Thing," is basically a harder version of Bread's "Guitar Man." But Bice keeps pumping out the rock that catapulted him to fame on Idol, and fans love him for it.
The other night he performed the Allman Brothers' classics "Whipping Post" and "Dreams," with a voice eerily reminiscent of a young Gregg Allman. Lack of originality matters little to crowds flocking to see Bice, who, despite a strong voice, is as much a TV star and cultural phenomenon than a musician.
He spent scant time playing tunes from his own CD (though he did suggest that the crowd buy it) before tearing back into the redneck anthem "Sweet Home Alabama." One can only wonder if punk, new wave, grunge or alternative rock ever got on the radio in Bice's hometown of Huntsville, Ala.,
Cliche as it may seem, it's hard to blame Bice for milking a formula that works. His audience is too young to have heard Hendrix play "Voodoo Chile" or Duane Allman play "Whipping Post." For all they know, Bice wrote "Free Bird" and that's good enough. Bice is also a pleasant enough guy who has a carpe diem attitude about it all.
After all, if he is going to bang out covers, he might as well do it in front of an army of screaming fans.
Matt Richenthal is the Editor in Chief of TV Fanatic. Follow him on Twitter and on Google+.