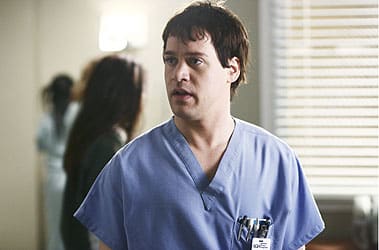 The summer is finally winding down and the premiere of Season Three is quickly approaching. September 21 can't come fast enough, but at the very least, ABC continues to push
Grey's Anatomy
re-runs on its new night... twice.
At 8 p.m. Thursday, you can watch the popular "Thanks For the Memories," a Season Two Thanksgiving episode that aired pretty recently. If you haven't seen George's dad get shot in the rear end, or Cristina wish she could shoot herself amid Izzie's festiveness, this is your opportunity.
It's sad and funny, depressing and heartwarming. Definitely worth watching for the first, second or third time. Check out our episode guide by following the link above, and be sure to peruse our image gallery and list of quotes.
At 9 p.m., Grey's Anatomy fast-forwards a bit to the latter half of Season Two with "Band-Aid Covers the Bullet Hole." Desperate to bounce back and remake himself after his defeating encounter with Meredith, George (above) gives himself a haircut. It doesn't look good.
Cristina struggles for her man's attention, as does Addison. Izzie falls even harder for Denny, while Miranda struggles to balance motherhood and being Nazi-like. Also a good episode. Be sure to take a look at our guide (see link above) and complete list of quotes.
Thanks for making us the top Grey's Anatomy site on the web. We'll be announcing our weekly Caption Contest winner tomorrow -- give it a shot!
Steve Marsi is the Managing Editor of TV Fanatic. Follow him on Google+ or email him here.