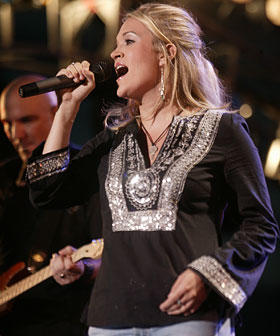 Maybe the two concerts she did in Syracuse, N.Y., last September with the American Idol crew had singer
Carrie Underwood
feeling at home Monday when she performed at the New York State Fair's grandstand.
Or maybe it was the summer out on tour headlining, or opening for megastar Kenny Chesney, helped the American Idol champion grow more comfortable.
For whatever reason, she was certainly having a good time on stage this week, the Syracuse Post-Standard reports.
"I am chatty tonight!" Underwood said midway through her show.
The happy crowd of American Idol fans, which you can spot by the way they hold up their posters of love or wave whenever they think their hero might be looking in their direction, was given a lesson by Carrie regarding the importance of education. Underwood talked about important it was that she went back to get her degree after her narrow Idol win over Bo Bice.
Then she admitted being a bona fide Star Trekkie.
Musically, as well as in terms of her stage presence, Underwood has certainly grown. As she started with the powerful "We're Young and Beautiful," it was easy to tell that the native of Checotah, Okla., has gotten a lot out of the past 12 months as a country music star.
Underwood took the stage dressed in a red shirt and jeans, complete with a big belt and very sparkly buckle, her hair pulled into a ponytail. There was none of the fashion glamour of the Fox TV show, and more charisma.
Her tendency to stand at the mike and sing was one of her noted gaffes on American Idol, but she even danced around the stage in Syracuse. And, oh, there's that voice of hers. Underwood has it down pat, with a big voice that wraps itself around broken-heart songs as well as plans for revenge, as she showed with the 1-2 punch of "Jolene" and "Before He Cheats."
She had fun with loads of material from her debut album, last year's Some Hearts. "That's Where It Is," "Lessons Learned," "Don't Forget to Remember Me," "Inside Your Heaven," "Wasted," "I Can't Live a Lie," "The Night Before," and the title track all soared.
Her hit "Jesus, Take the Wheel" had her fans thrusting their hands in the air at the right point in the song, giving themselves up to her voice much the way the character in the song decides to put fate in Jesus' hands.
The powerful title track was perfect to close the set, and "I Ain't in Checotah Anymore" was Carrie's exclamation-point encore.
There was also a two-song break that allowed Underwood to belt out two Guns N' Roses songs, proving that she listened to all kinds of music growing up.
The tender "Patience" was great for the up-front acoustic circle Underwood had formed with her band, and then the electric "Sweet Child O' Mine" gave Underwood the chance to prance around with a sash tied to the mike stand. Axl Rose would have been proud.
Matt Richenthal is the Editor in Chief of TV Fanatic. Follow him on Twitter and on Google+.