Set your VCR (or DVR, or TiVo), Clay Aiken fans. Below are some details about a television "exclusive" featuring the singer tonight, along with other pieces of information from Clay's camp. Thanks to a member of Clay Nation for forwarding this along...
-- Entertainment Tonight promises a "Clay Aiken Exclusive" on Wednesday's episode. The subject will likely be the newest information on the release of Clay's forthcoming CD, A Thousand Different Ways. We aren't sure if this exclusive will be an interview, or a performance, but it should be interesting, as Clay has not been interviewed by the media since December. Be sure your local listings for the time and channel of the syndicated show.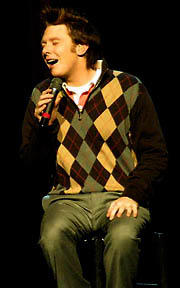 -- According to Clay's blog, found on his official fan club site,
A Thousand Different Ways
is set for release on September 19. An official press release containing more information is expected later this week.
-- On Monday, Promosquad's "Rate Songs" Jukebox began playing clips of two new Clay songs: "1000 Days" and "I Want To Know What Love Is," a cover of the Foreigner hit that Clay recorded as a duet with Suzie McNeil (of Rock Star: INXS fame). Yesterday, Promosquad also added snippets from a third track, "Without You," a remake of a 1972 Harry Nilsson song from 1972.
-- Last week, as we reported, Clay asked fans to support UNICEF in its mission to aid children displaced and injured by the recent Middle East conflict. By Friday, fans had raised over $47,000, accounting for a full 17 percent of the funds donated for the crisis there.
UNICEF called the response to Clay's plea "unprecedented," and by Monday, the amount had risen to over $66,000. Fans who wish to donate may do so by following the link above.
Matt Richenthal is the Editor in Chief of TV Fanatic. Follow him on Twitter and on Google+.