Clay Aiken is being sued for more than $250,000 by the author of an "unauthorized tribute" to the second season American Idol runner-up.
According to People and MSNBC, Jeannie Holleman of Raleigh, N.C., claims Aiken defamed her and conspired to hinder sales of her 2005 book, Out of the Blue - 'Clay' it Forward.
Holleman, 50, describes herself as a lifelong friend and neighbor of the McGhees, a Raleigh family that was close to Aiken's mother, Faye Parker. Holleman says she took in Parker and a young Aiken when Parker left her abusive husband. The book is a compilation of interviews with the McGhees, along with the author's recollections and anecdotes from Aiken fans.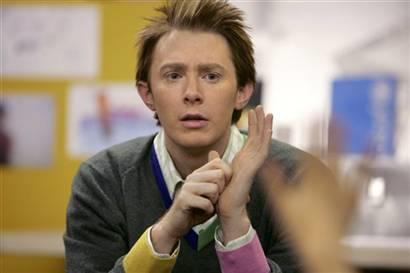 In her lawsuit, Holleman alleges that Aiken, his mother and others denied her stories and unfairly criticized the book on Aiken fan sites.
She is seeking at least $260,000 in damages, and has asked that the court order Aiken to retract his critical comments or endorse Out of the Blue on his official website.
Yesterday, Aiken issued a statement.
"[I've] instructed my attorneys to not only vigorously dispute the claims that have been made but to also pursue all possible remedies against those involved in the perpetration of these untruths," Aiken said.
"As a so-called 'celebrity' I have become used to scurrilous allegations and untruths being made about me and my work. I have always taken the path of not reacting to these matters and have accepted them as, somehow, coming with the 'job.' However, I cannot, and will not, stand by when these attacks are made on my family," he continued.
Clay's upcoming and highly-anticipated album, A Thousand Different Ways, is due out September 19.
NOTE: American Idol Worship supports Clay in his efforts to settle this dispute amicably and permanently, and welcomes comments from fans with greater insight on the issue.
Matt Richenthal is the Editor in Chief of TV Fanatic. Follow him on Twitter and on Google+.