Katharine McPhee may be grabbing the headlines with her recent appearances as TV guest hosts and attempts to break into theatre production, but don't count out Taylor Hicks in the quest for media royalty.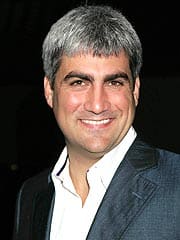 The reigning American Idol winner, 29, has singed a deal to write a book, People reports -- and commanded a sizable advance of $750,000 from Random House's Crown imprint. Hicks's agent, Alan Nevins, says the memoir will be ghost written by David Wild, whose work has appeared in Rolling Stone.
The book, Heart Full of Soul, hits shelves in Spring '07.
Hicks, once a struggling singer in Alabama clubs, will chronicle the obstacles he overcame on his road to success, and discuss the whirlwind of emotions he felt along the way. We're big fans of Taylor, and have no problem with him cashing in on his talent. But at 29 he may well become the youngest performer to ever publish a memoir!
In other news, Taylor will appear alongside fellow American Idol stars and Alabama natives Ruben Studdard (Season Two winner) and Bo Bice (Season Four finalist) on a new billboard from the state's Bureau of Tourism and Travel.
According to the Associated Press, the billboards will feature photos of the trio, and will be emblazoned with the message, "Where America finds its voice. Alabama."
Lee Sentell, the state's tourism director, said that six billboards will go up shortly before the American Idol auditions begin in Birmingham, Ala., on August 21. They will be displayed for four months leading up to the start of Season 6.
Between 10,000 to 15,000 hopefuls are expected to try out as Fox holds auditions in Birmingham for the first time. Given that the city boasts two of the five AI winners (Hicks and Studdard) a huge turnout isn't surprising. It turns out the two Birmingham products have more than that in common -- Taylor's middle name is Reuben. Who knew!
Matt Richenthal is the Editor in Chief of TV Fanatic. Follow him on Twitter and on Google+.