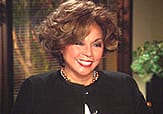 She made history in 1968, becoming the first African-American woman to star in a TV series. Thirty-eight years after the premiere of
Julia
, which launched her career,
Diahann Carroll
will be guest starring on the third season of
Grey's Anatomy
, a drama renowned for its cast's diversity.
"Each time, I'm surprised [to still be asked to appear on a television show]," she told Entertainment Tonight. "I feel as though they've counted me out. I might as well sit on the beach. Then the phone rings."
Carroll felt particularly wonderful when she received a call from the series' creator, Shonda Rhimes.
"She said the most lovely thing. She said, 'I knew when I was a girl that if I had any success in television or film that I wanted to work with you.' I said, 'When I hear things like that, you make me feel so wonderful that I'll work for nothing,'" she said.
Of course, Diahann wasn't serious about working for nothing, but she was flattered just the same. That said, she joined the conspiracy of those who work on Grey's Anatomy, and have sworn not to reveal any of the upcoming storylines. The much-anticipated Season 3 begins Thursday, September 21.
"They explain that you just say nothing, and I think it's a wonderful idea. So I'm on the show, that's as far as we can go," Carroll said.
Diahann definitely was a hit with her co-stars. According to Patrick Dempsey, a.k.a. "Dr. McDreamy," Carroll brings "an elegance and a level of intensity... people were really excited she was there."
TV isn't the only area in which Diahann is a survivor. She has also beaten breast cancer, having been lucky enough to be diagnosed early. She wants to get the message out to all women regarding the importance of annual checkups and mammograms.
"So many women in the African-American, Asian and Latin communities feel that their primary concern is not themselves, but their families," she said. "The family is very important, but the family would be in a terrible condition if [these women] were not there to take care [of them]."
For a greater understanding of breast cancer, Diahann urges women to visit Strength In Knowing, a website established to give women the understanding they need of cancer and its risk.
We're eagerly awaiting Diahann's performances on Grey's Anatomy. Save for Shonda, no one knows who she'll be playing yet, although rumors suggest a contemporary of Richard's, or perhaps the mother of Dr. Burke.
Steve Marsi is the Managing Editor of TV Fanatic. Follow him on Google+ or email him here.