I've worked stressful jobs in the past where the days passed by in a never-ending quest to get the work done for the boss and client. However, I was compensated monetarily for the work-related stress, lack of sleep, and churning stomach.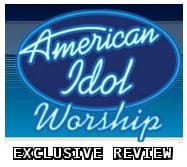 Fast forward to the past two weeks and picture this: "What?!? You got free tickets for the
Jimmy Kimmel Live
show in L.A. on September 26 and you want me to go? You're nuts! Wait, how many songs is he going to be singing in that outdoor mini-concert? Three to five? Say 15 minutes worth of hearing Clay Aiken sing? I'll think about it..."
And think about it I did, after receiving the invitation from a fellow Clay Aiken fan living in the midwest.
Having not seen Clay in concert since last November, I really wanted to go. But flying to Los Angeles for a 15-minute concert? I shelved the idea for about a week, and had almost talked myself out of it when the marvelous news flashed across the message boards that the Jimmy Kimmel Live show wasn't to be Clay's only appearance in the City of Angels that day!
Was he going to be on a daytime talk show? Perhaps filming a music video for the new CD? What? Soon the beans were spilled and the glorious news came that Clay would be doing a CD signing event at the Virgin Megastore across the street from the Kimmel show. Now the pot was sweetened, and I once again decided to really attempt this mad Day of Clay.
Thus began a flurry of long-distance phone calls, airline reservations, begging for a couch to sleep on from old friends -- anything to lower the cost and not end up in divorce court with non-Clayfan husband. Finally the reservations were made, and after only 3.5 hours of sleep I hopped on the early flight to L.A. Monday morning.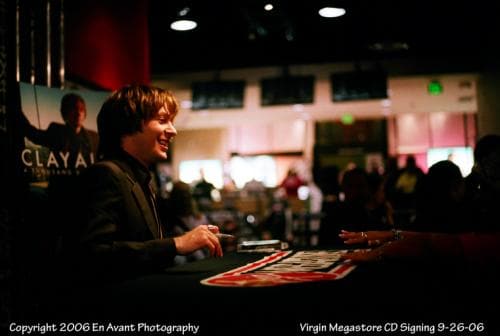 The first stop after renting a car and surviving the freeway to Hollywood was meeting up with another friend from my home state and scoping out the venue and neighborhood. Among the key issues at hand:
Where would we need to stand in line to make sure we actually got into the studio taping and outdoor concert?
Where were the lines for acquiring the required bracelet for the CD signing?
Where was the CD signing line?
What time was the soundcheck outside?
Could we take pictures?
Where would Clay be standing in the store, and had I brought enough of the high speed film to obey the no flash rule?
I wasn't about to blow my meeting with Clay for lack of preparedness! After the necessary "checking" had been accomplished, and all arriving friends had been notified of where to stand for which line, I spent the rest of the day dipping my toes into the warm Pacific ocean and meeting up with my friend. Great, restful, vacation days right? Wrong.
The alarm shrilly screamed that it was time for this Claymate to rise and shine at 4:45 am to commence Clay Day extraordinaire.
Some friends spent the night on the street in front of the Virgin Megastore to assure they were happy recipients of the remaining 250 bracelets that had not been distributed during the CD Release Party the previous week.
Being a prepared Claymate, I already had a friend of a friend pick up a bracelet for me at that party, so one line could be skipped. But before all the folding stool-sitting fun could begin, there was the small matter of acquiring tickets for a Christmas performance in Pennsylvania that another friend and I were planning on attending.
Of course, the member pre-sale for this venue just happened to be the exact same morning we needed to be standing in several different lines for the CD signing and Kimmel show. We enlisted three other friends to help call on their cell phones for us, and after 45 minutes of pacing and hitting redial, I finally was put on hold on the ticket order line.
I have never been so glad to be on hold as that morning after hearing that non-stop busy signal. The old familiar ticket stress churning in the stomach was now up to the pulverize setting on a blender! My mouth was dry and pasty, my hands cold and clammy, and I hadn't even met Clay yet! Finally, I was able to purchase two row 10 tickets, and the real reason for being in L.A. could now take center stage again.
As a whole, Clay Nation is very generous, caring and giving -- very much like the man himself. However, as the day wore on and we were moved here and there in various lines, tempers did begin to flare as presumptuous fans "discovered" long-lost friends who just happened to be in a better place in line.
Several other "friendships" were attempted to be resurrected for the sake of a closer position to the stage. The somewhat uglier side of human nature reared its head as late-comers pushed to be in the same place in line as those who had slept on the street and sweated in the sun on a folding chair or blanket to procure their place in line. The upside, of course, is that Clay's fans are desperately anxious to see him up close and in person!
The wonderful hour of 1 p.m. finally arrives, but by then we all looked like something that should have been swept up from the gutter.
My plans of retiring to a friend's hotel room to freshen up, re-curl and style the hair after the early morning fog had decimated my coiffure were quickly squelched by the security guard who had us standing single file in a line for hours before the signing. Quick restroom stops were the only excuse for leaving the line, so I resigned myself to looking less fetching than I had hoped.
Oh well, just how much "rumple" would Clay be able to see in my 20 seconds in front of him anyway?
Finally, the big moment came and we were herded single-file into the record store. Being third in line meant that we were photographed, interviewed, and filmed for various TV and RCA promotions.
Our best-laid plans to photograph each other meeting Clay all went out the window as we were marched along like calvary troops and the videographer friends were in the group behind us and not allowed in the store when we were. The press was present in full force, and flashes popped everywhere in addition to the TV film crews that were filming. So much for not using flash -- darn!
My 20 seconds passed by in a whirlwind of confusion as I didn't know where my stuff to be signed had gone, and if the signed items on the table were mine or not. Clay sat up high on a platform behind a table, and I again felt like a five-year-old standing on tiptoes to gaze over the windowsill into a candy store.
Every prepared thought, word, and sentence that I had planned to say to Clay flew out of my brain in the confused melee, and all I was able to spit out was that God had impressed on me the need to pray for the protection of Clay's heart against all the attacks he has been subjected to lately.
He replied "Thank you Michelle," and I wondered how he knew my name until the thought registered that I had given him a card with my name on it...
Yeah, I was twitterpated at that point! A more "mature" fan reduced to a blithering idiot just from 20 seconds spent in front of her singing Idol. Pathetic, truly pathetic! I have publicly debated hot political issues, spoken in front of my church congregation and other gatherings, and used to be on the high school speech team. But 20 seconds in front of Clay Aiken removed all speaking experience from my brainwaves. Amazing!
After we had our signed CD or other item, we stayed in the store just to watch and photograph our man in action. Clay was extremely animated, and the pictures I snapped showed just about every expression imaginable. He was truly like a king reigning from his throne, and we, the royal subjects, were like court jesters trying to get a reaction out of our ruler.
Clay showed infinite patience for a three-hour event that certainly wasn't his first choice of relaxing afternoon activities. He barely had time for a drink of water before being escorted amidst heavy security across Hollywood Boulevard to the Jimmy Kimmel Live studio.
The people in the studio taping line began their identification checks for admittance, and the people in the outdoor concert lines dashed back to their lawn chairs and stools to peer through the fence for a soundcheck and hopefully a few songs from Clay and band.
We were not allowed into the parking lot concert venue until just before showtime, so we did our best to photograph between the chain links in the fence, and through the gate openings as cameras were NOT allowed inside contrary to what we had been told during our previous day's detail check.
The hour finally arrived, and I found myself front and center against the barrier for the concert. The indoor taping was shown live on monitors, so we were able to laugh along with Jimmy Kimmel as he interviewed George Lopez, and then Clay.
As soon as Clay's interview was finished, he dashed across the alley to the stage, and soon it was showtime and we were on the TV in five, four, three, two, and one. Clay was on fire, and performed like I had never seen him perform before. Here I had my greatest seats ever for a Clay concert, and cameras weren't allowed. Argh!!
His voice was great in spite of a bout with the stomach flu just two days prior, and he was clearly glad to be back performing again, and we were just as glad to welcome him back. The crowd was loud, loving, and elated to hear the new songs from his new CD performed live in concert.
He began with "A Thousand Days" then did his first hit song, "Invisible," from his Measure of a Man CD. The TV show was then officially ended, and Clay continued to sing three more songs. After "When I See You Smile," and "Sorry Seems To Be The Hardest Word," he gave us a choice to either hear one more song, and with it, a promise for a winter tour, or two more songs and no tour.
The tour votes won, and the last song was his new single, "Without You." The studio personnel had to shoo us out of the stage area as nobody wanted to break the spell and come to the realization that our Clay Day was over.
Kimmel viewing parties were scheduled around the area, with many fans in attendance, while others retreated to their hotel rooms to recover from the rigors of sleeping on the streets of L.A. for a chance to meet and see Clay.
I slept 8.5 hours in the three nights of my Clay Day Extraordinaire, and am still not caught up due to trying to upload and tag pictures and send out enlargements to friends. Dust bunnies multiplied, flowers wilted, my desk at work is yet to be unburied, but I wouldn't trade a moment of yet another wild and wooly installment into the life of a middle-aged pop star groupie!
To think that I paid to have this stress and excitement. What was I thinking? To the eternal embarrassment of my kids, a picture of me taken while I was waiting in the CD signing line ended up on the AP wireimage site, and another version on Getty Images.
Snippets of me standing in line inside of Virgin Megastore appeared on the Larry King Live show, and my friends appeared in the Entertainment Tonight online feature on Clay. Front row center also insured that my rumpled self (who had changed clothes in the rental car in the parking garage) was shown a few times on the Jimmy Kimmel show.
RCA filmed and interviewed many of us, and who knows where those clips might end up? It is a good thing that I had applied at work for vacation time off, and wasn't trying to finagle sick leave for this little "get-away" with my face splattered all over the internet and on various TV programs...!
Was it worth the expense, hassle, churning stomach, time off from work, and lack of sleep? This Claymate says yes! After the difficult year Clay has had, it was good to see him smiling, happy to be back performing, and sporting a great new look with a tremendous CD just out on the market.
Now that I've got tickets in hand to Clay's performance with a symphony orchestra in Pennsylvania for December, let's just skip this autumn thing and get right down to Christmas trees and candy canes!
O Come, All Ye Faithful...
Matt Richenthal is the Editor in Chief of TV Fanatic. Follow him on Twitter and on Google+.