Patrick Dempsey, Grey's Anatomy Grace Cover of Entertainment Weekly
Steve Marsi at .
What other show would lead off coverage of Entertainment Weekly's Fall TV Preview? Come on now.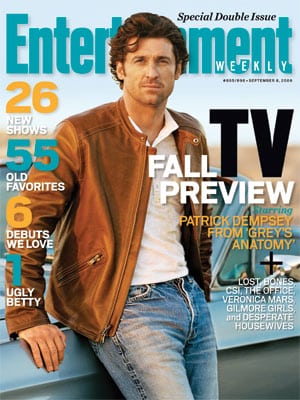 With Patrick Dempsey on the cover and a feature article inside, detailing a few Grey's Anatomy spoilers, along with insight from the cast, this is a must-have for all fans. We'll review a few of the memorable points/quotes from the piece:
Early in the season three premiere (airing September 21!), the following exchange takes place after Alex questions Callie about her relationship with George:
''She's a resident,'' Dr, Bailey says. ''She outranks you. You don't ask her personal questions.'' It's a line that would sound perfectly reasonable on any other doctor drama - not here. After wrapping the scene, Chandra Wilson smiles and cracks, '''Not talking about our personal lives? At Seattle Grace? Come on.'
Dempsey on the dilemma Grey's encounters as it moves to Thursday nights:
''We're at a fork in the road. People are aware of what's happened to other shows [in their sophomore seasons] and what the traps can be. As long as we stay true to the essence of the first season, the show will have a strong place in history. Otherwise, we're just a flash in the pan."
Ellen Pompeo on realizing just how HUGE the show had become:
'When I got invited on Oprah I thought, Whoa, okay, this is big. I feel really lucky - all of us realize how difficult it is to get the stars to align.''
Writer Tony Phelan got a first-ear look at how dedicated followers of the show can be when he received a certain phone call after the season finale in May.
''Is this Tony Phelan? The Tony Phelan who writes Grey's Anatomy?'' Figuring it was someone from ABC calling to congratulate him on good ratings for the episode (which he and his wife, Joan Rater, had co-written with Rhimes), he said yes. Then the caller exclaimed, ''How could you kill Denny?'
Ah, yes, The Insider has received similar complaints. Fortunately for rabid and new fans alike, less than three weeks remain until answers to their most pressing Seattle Grace questions are answered.
Steve Marsi is the Managing Editor of TV Fanatic. Follow him on Google+ or email him here.