One week to go until the season premiere, and four repeats before we get there. Fittingly, ABC will be showing the final four episodes of Season 2 in preparation for next Thursday's Season 3 premiere.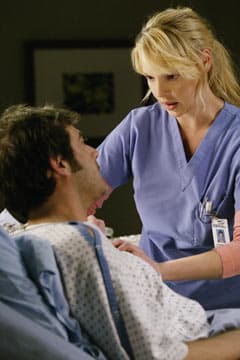 Tonight, we have the chance to relive "
Damage Case
" and "
17 Seconds
" at 8 and 9 p.m. EDT, respectively.
"Damage" involves a family involved in a car accident, in which the person at fault is a surgical intern at SGH's rival hospital. Derek lets his emotions get the best of him, and Burke and Izzie make a new suggestion to Denny regarding his treatment.
   
In "17," the first installment of last season's three-part finale, sparks ignite between Finn and Meredith, the budding relationship between Callie and George progresses, and Izzie devises her radical plan to get Denny a heart transplant.
In addition to our episode guides (see links above), be sure to check out our list of quotes from "Damage Case," as well as our image gallery. We have quotes and pics from "17 Seconds" for your enjoyment as well.
If you haven't already, test your Grey's Anatomy I.Q. with a little trivia! HINT: The answer to one of the questions people are having trouble with can be found in one of tonight's episodes. We'll post the answers in the next few days after more people have had the chance to take part. Enjoy!
Steve Marsi is the Managing Editor of TV Fanatic. Follow him on Google+ or email him here.