Grey's Anatomy, House, ER Flourish; CBS Debuts Medical Drama of its Own
Steve Marsi at . Comments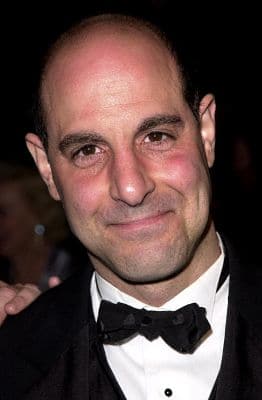 Historically, TV medical dramas arrive in pairs.
In 1961, Dr. Kildare and Ben Casey established popular practices. In 1969, Marcus Welby, M.D. and Medical Center started offering diagnoses. In 1994, Chicago Hope and ER battled for viewers while saving lives.
NBC's ER ultimately won. In its 13th season, and with none of the original stars remaining, a reinvented ER flourishes in a surprising medical boom, the Orlando Sentinel reports.
ER wins its time slot at 10 p.m. Thursday nights... even as Grey's Anatomy on ABC ranks as TV's top overall show an hour before.
Fox's House, which moves to 9 p.m. Tuesday next week, has been a smash hit in its own right and made a star out of Hugh Laurie.
Eager for a piece of the medical action, CBS is pinning its hopes on 3 Lbs, which debuts November 14. Stanley Tucci (above) plays a neurosurgeon; the title refers to the brain's weight.
"If the four are successful at once, it will be a first in TV history," says Tim Brooks, co-author of The Complete Directory to Prime Time Network and Cable TV Shows.
Brooks notes that doctor series have been draws since Medic in the 1950s. Viewers fondly recall St. Elsewhere, where Denzel Washington gained a following in the 1980s. Physicians have been central characters in Lost, Northern Exposure, Providence and Dr. Quinn, Medicine Woman.
But programmers have resisted going all out for doctor shows.
"They have never taken over TV the way Westerns or [crime] procedurals did. It's a TV staple, but not broad enough to dominate television. Basically, when you're healing people, there aren't too many variations. A doctor is a doctor is a doctor," Brooks said.
But they are a more diverse group these days, from the aforementioned shows to the racy plastic surgeons of FX's Nip/Tuck, to the comic lunacy of NBC's Scrubs, which returns November 30 -- opposite Grey's Anatomy.
ER executive producer David Zabel says his show was the only game in town for a long time. No more.
"Grey's Anatomy -- they're doing much more a romantic comedy version of a medical show. House is doing much more of a procedural medical mystery. While there are bunch of successful medical shows, each is delivering a different kind of storytelling," he said.
And 3 Lbs will take still another approach.
"We look at the brain as the final frontier," says Nina Tassler, president of CBS Entertainment. "It's relatively untapped as far as storytelling."
Even so, in an uncertain world, TV's physicians have a similar appeal to viewers.
"They see doctors solving problems, curing diseases, saving lives. It is generally a feel-good experience," Tassler said.
Current events have ensured that doctors are ready-for-prime-time players.
"Obviously, with the aging population, health care is a major concern. The medical shows are interactive. People can think about illnesses, then research them. You can go online and look up the symptoms," says Ron Simon, TV curator at the Museum of Television & Radio in New York.
In this TV era, doctors are more complex than Kildare and Welby.
"You weren't trying to get into Welby's psyche. Now we're as interested in doctors' humanity as their professional competence. With House, you're dealing with obscure illnesses. The doctors are compellingly drawn. You're as interested in who the doctors are as what the illness is," Simon said.
With Grey's Anatomy, you're probably more interested in the doctors than in the diseases. Creator Shonda Rhimes designed the show that way.
"I think that we're a relationship show with surgery in it," Rhimes said.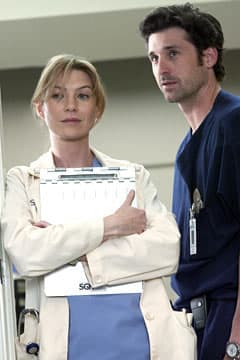 Water-cooler conversations Friday mornings center on the latest problems of Meredith Grey (
Ellen Pompeo
) and former lover Dr. Derek Shepherd (
Patrick Dempsey
).
Unlike Welby (Robert Young), today's doctors no longer must be dignified role models. Rhimes created Meredith as a flawed heroine.
On House, Dr. Gregory House (Laurie) displays no bedside manner.
House, a unique character that Dempsey auditioned for prior to landing his role on Grey's, is the anti-doctor, says Preston Beckman, an executive vice president at Fox.
"He's willing to break medical rules to get to solutions. Sometimes, he'll put patients in jeopardy to save their lives," he said. "And he's addicted to painkillers."
On the upcoming 3 Lbs, Tucci's neurosurgeon displays an acerbic sense of humor. He could be dealing with his own medical condition.
"There are aspects of his character that are sometimes off-putting," Tassler says. "But you come to understand, via his actions, this is a man who is extraordinarily brilliant."
These doctors can produce brilliant ratings.
In a vote of confidence, CBS is debuting 3 Lbs in the November sweeps, a vital ratings period. Grey's Anatomy has lifted ABC on Thursdays and helped ER, even though the dramas are on different networks.
"I think Grey's Anatomy is bringing some younger viewers to Thursday nights," ER's Zabel says. "At 10 o'clock, they're turning the channel to see what's on, and they're choosing our show. The shows are different enough that it doesn't feel repetitive to the audience."
In January, House will be slotted after American Idol on Tuesdays.
"We take our two biggest shows and put them on the same night," Beckman said. "You need that big dominant night to win a season."
The male doctors can be sexier than hunky Kildare (Richard Chamberlain) was in the 1960s. Laurie's provocative appeal boosts House. On Grey's Anatomy, Mark Sloan (Eric Dane) causes a sensation by appearing in a towel. On ER, new addition John Stamos follows in the footsteps of George Clooney.
Stamos will be with ER at least two seasons. But he wasn't a fan before he joined. He is like many younger viewers who are coming to ER.
"I didn't realize how great the show was until I became part of it," Stamos said.
Steve Marsi is the Managing Editor of TV Fanatic. Follow him on Google+ or email him here.