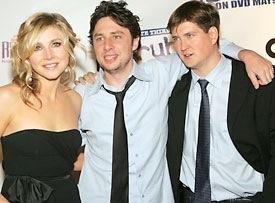 Bill Lawrence (right) is out to rescue NBC.
Okay, maybe not. But the Thursday night TV lineup is about to get even more crowded.
Reeling from the pounding it's taking from Grey's Anatomy and CSI on TV's biggest night, NBC announced this week that Scrubs is moving to the coveted, yet dreaded Thursday night, 9 p.m. slot.
The Emmy-nominated, quirky medical comedy series is being counted on to help the network bring back the glory days of Thursdays on NBC. But since Grey's Anatomy has won the ratings battle thus far, Scrubs' creator, Lawrence, is quick to downplay expectations.
"If NBC is counting on Scrubs then they are sh!t out of luck my friend," Lawrence joked yesterday, before throwing in a reference to Grey's Anatomy.
"First of all, I am a huge TV fan -- Thursday night on NBC should be comedy. Secondly, we're going to think of something to name Zach Braff's character like McSomething -- McWeenie or McCheesy or something."
In addition to Scrubs, Grey's Anatomy will also be going up against The OC, Fox's once-popular teen soap opera, which makes its return Thursday at 9.
A four-way fight may seem daunting, but we have a feeling Meredith & Co. will pull through just fine. We're certainly not going anywhere.
Steve Marsi is the Managing Editor of TV Fanatic. Follow him on Google+ or email him here.