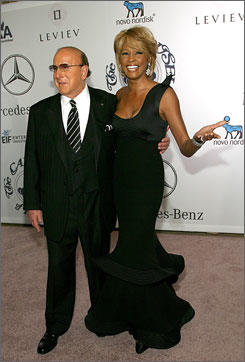 She didn't sing, but
Whitney Houston
's presence alone made her shine among a room full of glittering stars at Saturday's 17th Carousel of Hope Ball in Beverly Hills, Calif.
According to USA Today, it was the singer's first step back into the spotlight since seeking treatment for substance abuse and leaving longtime husband Bobby Brown.
"I feel great," said a blond Houston, wearing diamonds and black Armani, sounding more calm and focused than she has in year.
"She's looking at the light, instead of darkness," said Houston's pal and the evening's honoree, Quincy Jones, who has known Houston since she was 16.
Houston was escorted to the event by music producer Clive Davis, the night's other honoree.
"She's been through emotional trauma, and everybody's rooting for her. We're going to make a killer album," Davis said.
Houston sat at the main table, where Halle Berry (in gold Elie Saab) was seated with boyfriend Gabriel Aubry. The semi-annual event has raised more than $70 million for childhood diabetes, and Berry, a diabetic, said she has been feeling well and remains hopeful for a cure.
Also in attendance were Warren Beatty, Annette Bening, Brooke Shields, Teri Hatcher, Sidney Poitier, Minnie Driver, Kristin Davis, Hilary Duff and the evening's host, Jay Leno. And a certain American Idol finalist, of course.
Houston's surprise appearance led American Idol finalist Katharine McPhee to abandon plans to sing her signature "Over the Rainbow" in place of Houston's "I Have Nothing."
"It's her first big appearance since the breakup. "I would love to sing with her, but unfortunately all eyes are on me," said McPhee.
Houston nodded her head during McPhee's performance and led a standing ovation. Afterward, Davis brought McPhee over to meet Houston, who took McPhee's hands in hers.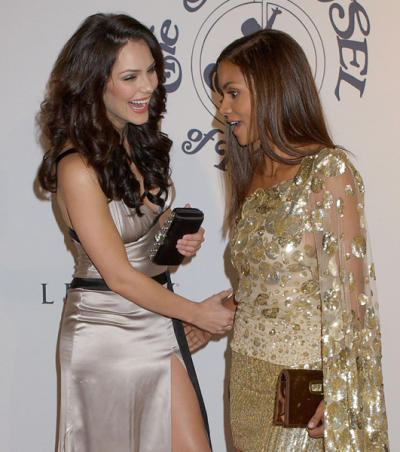 "She said she was really proud of me," said a tickled McPhee.
The event's founder, Barbara Davis, sparkling in $12.5 million in Leviev diamonds, guided Stevie Wonder over to sit with Houston.
"This is my baby," said Houston, taking Wonder's hand.
"He's my baby, too!" piped Barbara Davis.
Later, Barbara Davis ran over to Houston and pointed to a large screen replaying one of Houston's previous Carousel performances (The Greatest Love of All).
"Look," said Barbara Davis, "that's you!"
Houston smiled, appearing pleased with a reminder of her glory years.
Barbara Davis, a huge American Idol fan, also invited former Idol finalist Jennifer Hudson to preview one of her songs from this December's big-screen Dreamgirls. American Idol judge Randy Jackson expressed pride in seeing two of his discoveries invited to share this year's Carousel bill with such established performers.
As for Hudson's dream, it was one shared by all: "It would be a dream to hear Whitney perform again. She had the greatest voice of all time."
Matt Richenthal is the Editor in Chief of TV Fanatic. Follow him on Twitter and on Google+.