What hurts more than being booted off American Idol?
Not much, but a broken finger may be up there.
Unfortunately, season five contestant, Elliott Yamin, has now suffered through both experiences. The number-three finisher this past season is recovering from an hour's worth of surgery last week after breaking his pinky finger on his left hand in a freak accident.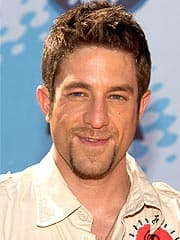 Yamin, 28, was picking up rocks and throwing them at a sign after visiting a nightspot in his hometown of Richmond, Va., when "his finger got caught on a rod holding down a rock," a source close to the situation told People magazine.
"My finger snapped back and broke. I had to get a plate and two screws and I'm wearing a cast," Yamin said. "I'm doing okay. It's not hampering me."
The pinky will be on the mend for the next five to six weeks - but don't worry, fans, Elliott is right-handed, so he can still sign autographs.
"Everything is scheduled as planned. I'm good," said Yamin, who is performing with the Little Memphis Blues Orchestra in Birmingham, Alabama later today.
Matt Richenthal is the Editor in Chief of TV Fanatic. Follow him on Twitter and on Google+.