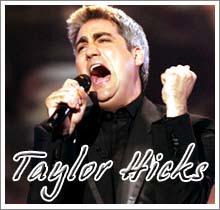 The self-titled album of
Taylor Hicks
came in at No. 2 on the Billboard chart, selling more than 298,000 copies in its debut week. There's good news and not-so-good news embedded in that figure.
Good news: In today's depressed record-sales market, 298,000 is something to be proud of. If his sales pattern holds, he should rack up a healthy total in weeks and months to come.
Kelly Clarkson and Carrie Underwood have both enjoyed steady sales that are the envy of most artists - and Taylor's debut number is right in their neighborhood (just slightly higher than Kelly's for her first album, a bit less than Carrie's).
Not so good news: He didn't debut at No. 1, being thumped by Young Jeezy's 352,000. Kelly and Ruben, among American Idol winners, did hit No. 1 on their first week (as did Clay).
On the other hand, Carrie also came in at No. 2 and Fantasia debuted at No. 8. So one can never know.
Matt Richenthal is the Editor in Chief of TV Fanatic. Follow him on Twitter and on Google+.