The terrificly talented Sandra Oh was chosen by AskMen.com, the popular online men's journal boasting 5 million monthly readers, as its Actress of the Week. The Canadian actress is profiled on the website looking terrific and being recognized for her craft. Here's what AskMen.com has to say: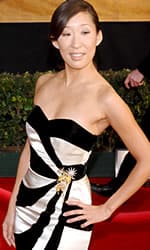 WHY WE LIKE HER:
Sandra Oh's obvious talent is matched by her penchant for choosing complicated roles, and it's certainly easy enough to forget that
Cristina Yang
-- her
Grey's Anatomy
alter ego -- is merely one of the hundreds of parts she has tackled over the years.
WHY SHE'S FAMOUS:
Although she stepped into the spotlight thanks to her gig on Grey's Anatomy, Sandra Oh is actually a veteran of the entertainment industry having appeared in over 45 movies and television shows since the late 1980s.
Unlike some of her co-stars on Grey's Anatomy, Sandra has been working within the entertainment industry long enough to ensure that this sudden burst of fame has little chance of going to her head. The actress has, slowly but surely, built an impressive filmography, effectively ensuring that she'll never be thought of as a flash in the pan.
IN HER OWN WORDS:
"In this line of work, you can't expect that if you get something -- some kind of recognition for your work -- that you'll work again. That's the insanity of being an actor; who knows when you're going to work again?"
Steve Marsi is the Managing Editor of TV Fanatic. Follow him on Google+ or email him here.