Here are impressions from the opening night of American Idol ...
Worst opening:
FOX is coming at you from Minnesota. It's the home of Prince. And did you know he's singing at halftime of the Super Bowl? Did you also know we can't recall the last time he had a radio hit? Wonder if any of tonight's
Idol
hopefuls can.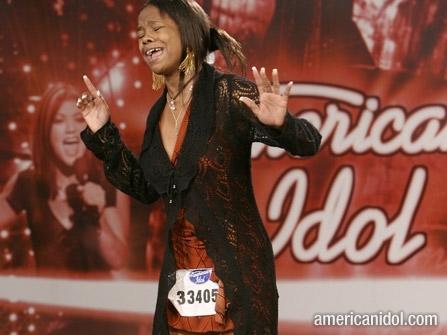 Best copy cat: Denise Jackson (pictured) hoped for viewer's sympathy ("I'm what you'd call a crack baby"). Hey, it paid off for Fantasia. Looks like Denise can sing, too. We also admire her courage for tackling Jennifer Holliday's "And I Am Telling You I'm Not Going" in light of Jennifer Hudson and her Dreamgirls version of that song. Could we be looking at our first finalist?
Saddest impression of a celebrity judge: The very first audtion was Jessica Rhodie. She remind anyone else of the celebrity judge on hand, Jewel? It felt almost cruel how long the show focused on her disappointment.
Best impresssion of a celebrity non-judge: There's only one Shakira. Let's be honest. But we're glad the panel approved of Perla Meneses. The gal gave it quite the effort on "Hips Don't Lie."
Most admirable audition: You can't blame Idol for giving us a long, heartfelt backstory on Jarrod Fowler. The military man probably would've gotten through as long as he possessed semblance of a voice - but he certainly didn't butcher that Rascal Flatts tune.
Worst: Trista Geezy. The cowardly lion impression could've been seen as funny. We just thought it was a waste of time.
Best: Sarah Krueger. Her song choice, "Over the Rainbow," wasn't exactly original. But the girl had pipes and left us with a solid impression on an otherwise ordinary night of American Idol.
Matt Richenthal is the Editor in Chief of TV Fanatic. Follow him on Twitter and on Google+.