We've heard a lot about the Seattle auditions. A lot of rather poor, scary things. So let's get going with our second American Idol diary ...
Ugliest case of The Hotness: Sorry, Jennifer Chapton, but if you need to introduce yourself as that, it doesn't bode too well.
Contestant most supported by Paris Hilton: Melissa Carlene Stavros. We doubt she was named after Paris' on again/off again boyfriend, Stavros Niarchos, but Seattle is making us reach for interesting observations.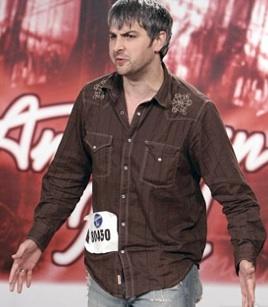 Most Taylor Hicks-like: This guy (pictured)!
Best siblings: Shyamalle and Sanjaya Malakar. Each seemed fun, each sang well. But how will judges/fans choose between them?
Tallest American Idol hopeful: Anna Kerns is six foot, four inches tall. Of course she was getting through to the next round. Would you tell this giant no?
Favorite of the night: Jordin Sparks. Love the name, like the personality. The best in Seattle. Not sure if that's saying a lot.
Matt Richenthal is the Editor in Chief of TV Fanatic. Follow him on Twitter and on Google+.