There's a reason why rival television executives not-so-fondly refer to Fox's American Idol as the "death star."
The talent show, which attracted more than 32 million viewers for each of its audition episodes, eclipsed everything in prime-time TV last week and was particularly cruel for the shows unlucky enough to air at the same time, Nielsen Media Research said on Tuesday.
ABC's new comedy Knights of Prosperity (3.6 million viewers), NBC's critical favorite Friday Night Lights (5.7 million) and CBS' dead-on-arrival reality show Armed & Famous (4.2 million) are some of the programs that wilted last week in direct competition with American Idol.
One of the few shows that seemed impervious to the Fox phenomenon was Univision's Spanish-language soap opera, "La Fea Mas Bella," which had more viewers at 8 p.m. Wednesday (6.3 million) than anything NBC, ABC or CBS had to offer.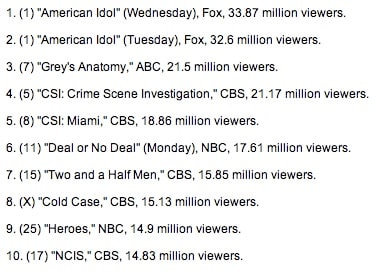 Matt Richenthal is the Editor in Chief of TV Fanatic. Follow him on Twitter and on Google+.