Don't start writing your thank you speech for winning American Idol just yet, Sundance Head.
After last night's auditions in Birmingham, Tatiana McConnico may have something to say about the final outcome. Let's get to know this young hopeful a bit better ...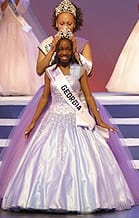 Tatiana won the 33rd annual Hal Jackson Talented Teen International Scholarship (pictured here) when she was 14. By doing so, the Douglasville, Georgia native won trips to London, Paris, the US Virgin Islands, the British Virgin Islands and Anguilla - along with a $5,000 scholarship to the college of her choice.
"My advice to other teen girls who want to enter a scholarship competition is this: Enter because you want to, not because your mom, dad or anyone else thinks that it is a good idea," McConnico said at the time. "If you don't want to do it, you won't put your heart into it, and if your heart is not in it, you won't do your best."
Tatiana also was a Star Search finalist and starred in Alliance Theater productions of The Color Purple and The Wiz.
Matt Richenthal is the Editor in Chief of TV Fanatic. Follow him on Twitter and on Google+.