Are you happy with American Idol so far this year? Auditions such as Sundance Head, Sarah Krueger and Melinda Doolittle have you excited for future rounds?
Us, too.
Nevertheless, there's always room for improvement. Courtesy of a Philadelphia American Idol blogger, here are ways one fan would enhance the show: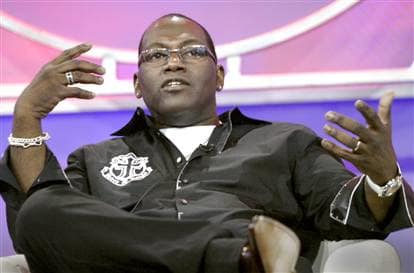 Let the Dawg be the Dawg
. I love the grouchy, self-aggrandizing
Randy Jackson
who's worked with every artist in the known world and who so shuns actual musical theory that he has devised his own music vocabulary for the show. He shouldn't try to "impress" us with things like "proper grammar" or "actual words" or "lines of thought." We want the "dudes." We want the "dawgs." We want the "dope."
Let Paula be Paula. No one likes a sober, coherent Paula Abdul. When it's week four of the finals and all the contestants are butchering Randy Newman song after Randy Newman song, the prospect of a quote from Paula like, "Sometimes when I'm a princess in…where…smoky banjo," is all we have to keep us tuned in.
Let loose the Seacrest. It's been said that it seems like Seacrest is auditioning for a spot on The Office with all of his pregnant pauses and eye rolls. I miss the talky spin doctor who is the glue that holds the whole darn mess together. And I'm sick of the T-shirts. You're Ryan Seacrest. Suit up, for Pete's sake.
Let the contestants sing duets (at least one week). That's the exact sort of thing that makes for great drama on Nigel Lythgoe's other, far superior brain trust, So You Think You Can Dance. It would also open up our American Idol world to a whole wealth of new songs and it would be a great way to mix things up during the top 24 round.
Tell Simon to quit phoning it in. His quips have gotten stale. We should all play a drinking game for whenever Simon says "cabaret" or "Broadway" or "old-fashioned" or "Portuguese dinner theater." Hopefully he'll come back all fresh and sparkly when the show is live again with fresh, new phrases like "Bolivian dinner theater."
Matt Richenthal is the Editor in Chief of TV Fanatic. Follow him on Twitter and on Google+.