We've arrived at the final part of Entertainment Weekly's American Idol 6 preview. The focus of it?
The one. The only. Simon Cowell.
5. Simon is even crankier than usual
And with good reason: He's doing double time exec-producing The X Factor, developing season 2 of NBC's America's Got Talent, and overseeing bands like Il Divo, the favored crooners of suburban mothers everywhere.
"Simon's working more than he's ever worked before,'' says Seacrest, ''and he has been more testy than ever before.''
And when Cow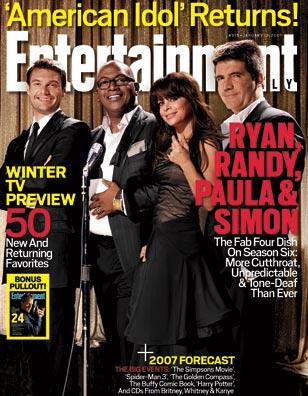 ell gets testy, Abdul gets flustered, Seacrest gets cocky, and Jackson gets� Well, he says ''dawg'' a lot.
Even just sitting in a room with the four friends during a break is entertaining enough to conjure up ideas for an American Idol spin-off. They've got a quirky, endearing camaraderie, and as they talk, the topics fly at random:
First, there's Underwood bringing fellow season 4 contestant Anthony Fedorov as her date to November's CMAs. (''That was the biggest news the next morning,'' Seacrest laughs. ''Do you think they ended up hooking up?'')
Reports of John Mayer and Jessica Simpson's rekindled romance get them gossiping (''What is he doing?'' Jackson whispers to Seacrest). And then it's on to the misconceptions the public has about them. (''Last year, when no one understood what I was saying, and even though I've never been drunk in my life, I'm accused of filling my Coca-Cola cup with alcohol,'' Abdul says. ''Yeah, that was really fun for me.'')
At times, they even let out a few honest-to-goodness compliments.
''What I love about Paula is she's a genuine fan,'' says Cowell. ''She's the only one who's emotionally involved. Someone's got to do it.''
Adds Seacrest: ''The first thing that happens every year when we see each other is we have that look like on the first day of school when you haven't seen your friends all summer and you have so much to gossip about.''
So while they bicker and feud and cry (Paula), and occasionally even stomp off the set, millions of fans wouldn't have it any other way.
''It's one of the greater phenomena when people click like we do,'' says Jackson. ''We grow and change every year. It's a circus... but it's a fun circus.''
Matt Richenthal is the Editor in Chief of TV Fanatic. Follow him on Twitter and on Google+.