Justin Chambers, who plays Dr. Alex Karev on Grey's Anatomy, said that the players in the show's off-screen controversy are continuing to work out their problems â€" and that it's a shame the spat has distracted from the program's impressive accomplishments.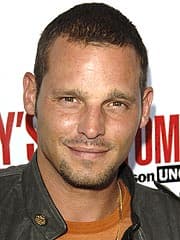 Asked by Barbara Walters on
The View
how things were going over at the ABC show since the storm over
Isaiah Washington
's gay slur erupted, Chambers replied that while the circumstances aren't ideal, the parties are trying to resolve it.
"That's the question right now. It's an unfortunate situation. They're trying to work it out," he said.
Chambers, 36, said the dark cloud that's been hanging over Grey's Anatomy since the Golden Globe Awards is unfortunate, considering the creative accolades it's earned.
"We won the Golden Globe, and it's kind of overshadowed that fact - and the fact that it's such a large cast, that we work a lot of hours and we get along really well," he said.
Kate Walsh, who also stars on Grey's Anatomy, tells Extra she is hopeful the show's cast and crew can eventually get past the situation.
"I feel really sad...I'm just saying my prayers," she said at the Sundance Film Festival. "I don't know what is going to happen... I just trust that our show will deal with it in the way that they see fit."
The off-screen saga began in October, when costars Washington and Patrick Dempsey got into a fight on the set, and Washington allegedly used a gay slur to refer to another co-star, T.R. Knight. Washington then fanned the flames at the Golden Globes by repeating the word (while denying he said the word), although he eventually apologized.
On a lighter note, Chambers, who has five children with his wife, Keisha - including twins Maya and Kaila (born in 1999), told The View's co-hosts that he'd given some advice to Patrick Dempsey, whose wife, Jillian, is expecting twin sons this winter. His words of wisdom?
"Strap yourself in, and get ready."
Steve Marsi is the Managing Editor of TV Fanatic. Follow him on Google+ or email him here.