All
Grey's Anatomy
watchers surely remember the two-part, post-Super Bowl episode from last year that catapulted the show and its cast to stardom.
Can the show possibly match the drama and excitement of "It's the End of the World... (As We Know It)" here in Season 3?
It's certainly going to try. The Insider has obtained pictures of the cast - Patrick Dempsey in particular - filming an upcoming episode entitled "Walk on Water," slated to air during February 8, during sweeps week.
What's more, a TV Guide investigator reports that "Walk on Water" promises to make last year's bomb-in-the-OR plot look tame.
According to inside sources, the action centers around a fire on a ferry boat (Derek will surely be disappointed), with scenes filmed on location along the Seattle waterfront as well as Santa Anita, California.
"It's going to be ginormous in terms of scope," reveals one spy, who says that more than 200 extras were employed for the disaster scenes alone.
We have more pictures of Patrick on the set of this episode after the jump. There's nothing that gives away much, but you still might want to skip it if you're not into spoilers.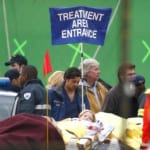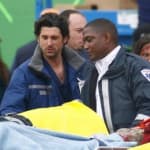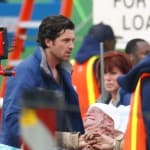 Steve Marsi is the Managing Editor of TV Fanatic. Follow him on Google+ or email him here.